Sustainable workwear: The future-ready recyclable stretch fibre LYCRA® T400® EcoMade
Created :

11th October 2023

Last Updated:

2nd November 2023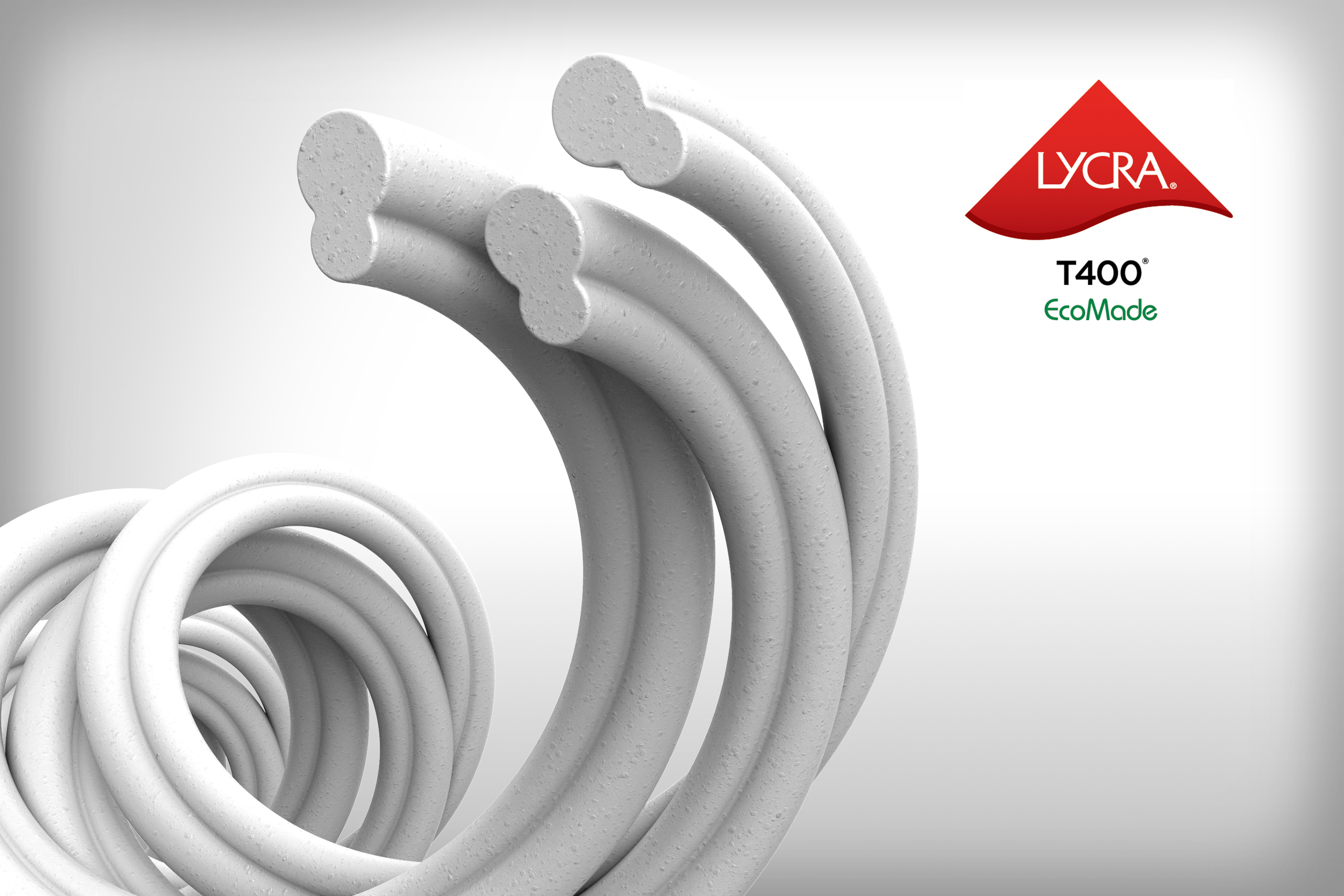 Consumers want more from their workwear in terms of innovations and fabric performance, and increasingly, they are concerned about the impact their buying decisions have on the planet, be it in their private or professional lives. Now more than ever, eco-conscious consumers are looking for sustainable options to reduce their carbon footprint and feel good about their purchase. In addition, the workwear industry has been challenged to reduce waste and adopt more sustainable business practices.
What is LYCRA® T400® EcoMade Fibre?
LYCRA® T400® EcoMade fibre is a unique bi-component fibre in which two different polyester polymers are joined together within each filament.
The unique fibre shape and the differential shrinkage between these two polymers create a helical crimp, providing stretch and recovery properties. Similar to naturally curly hair, LYCRA® T400® EcoMade fibre has a structural self-crimping structure so it always wants to return to its original shape. This 'coiling' property is inherent to the fibre construction, meaning the stretch and recovery performances last the life of the garment and withstand the rigours of repeated industrial laundering (incl. chlorine bleach)
LYCRA® T400® EcoMade also exhibits the inherent properties of polyester yarns: breathability, moisture management as well as chlorine, UV resistance, excellent colour and crease retention properties.
How is the fibre made?

A bi-component fibre, LYCRA® T400® EcoMade is made in part from renewable plant-based materials and recycled PET bottles.
Instead of going to the landfill or incineration, plastic bottles are collected, cleaned, ground into flakes and made into chips, which are then spun into fibre and yam, and finally, knitted in a soft stretch functional fabric and garment.
LYCRA®T400® EcoMade, like all of The LYCRA Company's recycled fibres, is GRS certified. The Global Recycled Standard verifies recycled material and tracks it from the source to the final product. The GRS includes strict social, environmental, and chemical requirements.
The ALL in ONE solution for performance-infused everyday fabrics.
The specially engineered channel fibre transports moisture from the wearer's skin to the surface of the fabric where it quickly evaporates to keep the wearer cool, dry and comfortable. This additional benefit will appeal to workers who are physically active or have to work outdoors in warm weather.
Hard-wearing fibre for workwear
Sustainably produced, recyclable and enhancing garment wear life, LYCRA® T400® EcoMade fibre is the ideal functional fibre for sustainable workwear delivering performance, comfort and durability while catering for today's consumer desire for making conscious buys.
Introducing Lugano fabric
The fibre allows Lugano fabric to be a high tenacity and abrasion resistant fabric, compatible with conventional polyester recycling processes. It provides the fabric with durable stretch which withstands the rigours of repeated industrial laundering and maintains consistency of fit, aesthetic and performance over time. Lugano meets the moisture management and breathability requirements of COOLMAX® branding.
LYCRA® T400® and COOLMAX® are trademarks of The LYCRA Company.