XLANCE® and its benefits for workwear stretch fabrics.
Created :

8th November 2022

Last Updated:

9th November 2022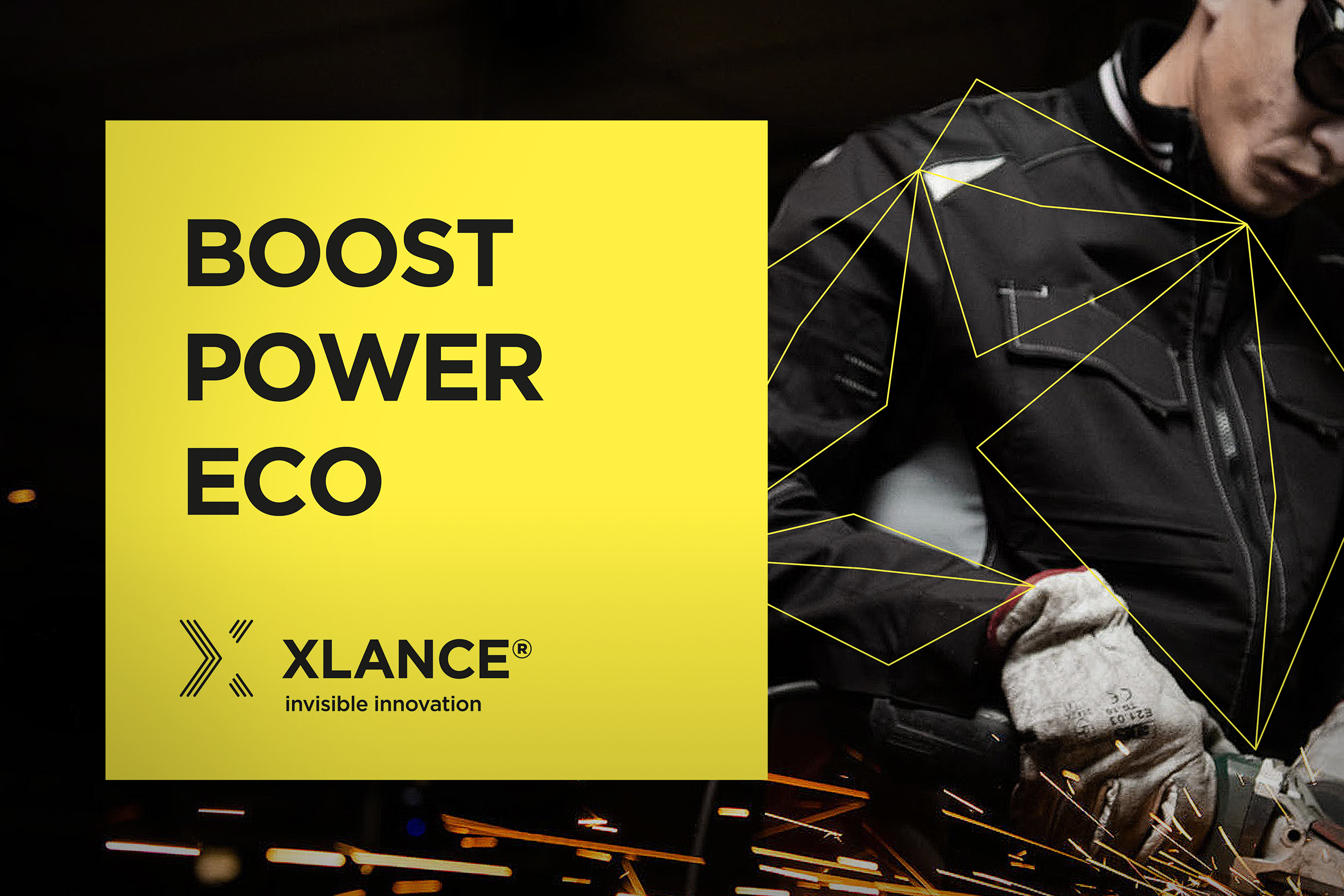 The invisible innovation which makes the elasticity durable and sustainable.
XLANCE® fibre is the tech ingredient for long-lasting stretch, which boasts countless possible applications, including workwear. Performances and sustainability are the main cornerstones, XLANCE® is BOOST, POWER and ECO.
Well-being means feeling at ease, even when you are working hard.
Long-lasting stretch
Nowadays wearing comfortable and functional clothes in the workplace is becoming an ever greater necessity. Workwear is a rapidly growing sector and the needs of workers have changed. XLANCE® is the innovative solution that allows workwear to have a comfort stretch feeling and to be reused several timeswithout losing its functional characteristics, extending its life cycle.
Industrial laundry resistant
XLANCE® is suitable for the production of elastic workwear garments because it is extremely resistant to washing processes performed in industrial laundries. Indeed the recovery power of workwear fabrics with XLANCE® remains consistent after 50 industrial laundry cycles (ISO 15797 – 75°C wash and 155°C tunnel drying).
XLANCE® makes elasticity sustainable. Clean process, durable and recyclable fabric.
XLANCE® shares a vision of sustainability that embraces not only the product, but also the process by which it is produced.
The quality that best identifies XLANCE® in the context of sustainability is the durability of its elasticity. In fact XLANCE® features a long-lasting stretch which guarantees an extended life cycle to all garments made of it. This entails a lower resource consumption and waste production, for a lower environmental footprint.
XLANCE® is produced through a solvent-free melt spinning process and it is sourcing 100% of its electric power needs from renewable energy. In addition, this process provides manufacturers with substantial energy and cost savings and a significant reduction in CO2 emissions, since XLANCE® can be heat set at just 120°C.
XLANCE® is committed to operating in compliance with high certification standards such as OEKO – TEX STANDARD 100, by which XLANCE® guarantees the absence of harmful substances in our product and that it is harmless to human health. In addition, over the years it has obtained Reach Compliant, ISO 9001 and ISO 14001 certifications, synonymous with XLANCE®'s focus not only on the product but also on its production system.
XLANCE® at Carrington Textiles
XLANCE® can be found in our Constance 210 gsm and Balaton 255 gsm fabrics. Both named after European lakes, they also utilise the high stretch technology from XLANCE®. Constance 210 is the Carrington Textiles sustainable alternative to workwear fabric Idra, and Balaton 255 is the 'greener' option for Cresta. These fabrics also incorporate REPREVE recycled polyester, made from plastic bottles, and BCI cotton in their composition.